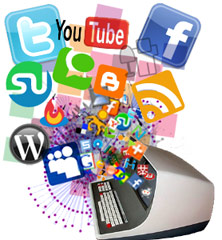 Suffering from a
social media overload? Mashable
gives us 5 great
tips:
Block out time to digest the day's trends

: Designate a period of time to absorb this information rather than just responding to it.

Keep TWO Lists

: Keeping both "Urgent" and "Long Term" To-Do lists helps allocate the appropriate time to focus on each.

Try a Power Hour:

Compressing all response-related work into pre-determined time blocks.


Don't Hoard Urgent Work:

Challenge yourself to delegate!

Reduce Levels of "Insecurity Work:"

Checking your twitter followers and bank account balance may make you feel secure, but fail to stimulate new ideas.

Read Mashable's complete article
here.